Our History: Furniture Designers of Distinction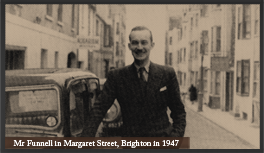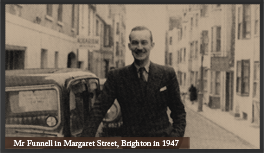 The following timeline tells the story of how Bevan Funnell was founded, and how we grew into one of the UK's most successful manufacturers of fine furniture.
1945 – Barry Bevan Funnell is working as a buyer at a retail-furnishing store in Hove when he meets his future wife Pamela Funnell. Ambitious and frustrated by his work, he suggests the couple start their own business making reproduction furniture. They are confident there will always be a market for high quality hand finished pieces.
October 1945 – 'Bevan Funnell' is formed as a Limited Company, and launches with just £50 in cash. The couple are in their early twenties and had been married for just three years.
1945-6 – Barry and Pamela start out buying and selling second hand furniture, using their industry contacts to open accounts with various retailers.
1946 – Bevan Funnell starts exporting furniture to Holland, followed by some low volume exports to Belgium and South Africa.
1947 – The firm moves to new premises on a factory estate in Newhaven. They start making their own range of oak and mahogany furniture, setting up a mill, machine shop, cabinet shop and polishing department. By this time they have three large vans delivering around Britain.
1948 – To advertise their pieces, Barry buys a 60-foot motor yacht and furnishes it with as much of their collection as it would hold. They then sail it around the entire UK, and ultimately to Germany, France, Scandinavia, Italy and Spain – entertaining wholesale customers.
1954 – The company begins exporting furniture to Germany.
1959 – Bevan Funnell establishes Continental stock rooms for exports, and a few years later their own lorries are crossing the Channel to make deliveries.
1965 – BBC Television approaches Bevan Funnell to feature in their programme "Made in Britain". The BBC sends a reporter, photographer and crew on one of their yachting sales trips.
1967 – Bevan Funnell becomes the first furniture manufacturer to win The Queen's Award For Industry (Now the Queen's Award For Enterprise).
1969 – Barry Bevan Funnell is awarded the O.B.E.
1970 – The company wins the Queens Award For Industry again, becoming the first winners to earn it twice.
1976 – Bevan Funnell expand their operations, taking over a four-storey building adjacent to their factory. They also add to their already large fleet of delivery vans and articulated lorries.
1995 – Barry and Pamela start to take a back seat in daily operations, leaving the sales trips to the next generation. Together they had already travelled around the world on business some 34 times.
2000-2005 – Barry and Pamela were still 'very hands on' with all business decisions right up to when Pamela passes away in the early 2000's, followed by Barry in 2005. They had succeeded in growing Bevan Funnell into one of Britain's most prestigious and highly respected furniture manufacturers.
2007 – After Mr. Funnell died, Bevan Funnell was put into employee ownership, who subsequently sold the business to successful and privately owned company The Swann Group.
2008-2013 – The Swann Group assists Bevan Funnell in diversifying its operations to meet ever-changing market conditions.
2013 – Bevan Funnell launches exciting new collections based on a range of discerning contemporary styles.
Contact Us About Making Your Furniture
To discuss how we can help, call now on 01273 616100 or email sales@bevan-funnell.co.uk. You can also book a visit to our offices using our contact form.